The title of this split EP translates from Latin into "Hard work Conquers All" and that speaks volumes for this release. It harkens back to a day when independent releases were independent of major record labels. It has a real "do it yourself" work ethic stamped through it like a stick of rock.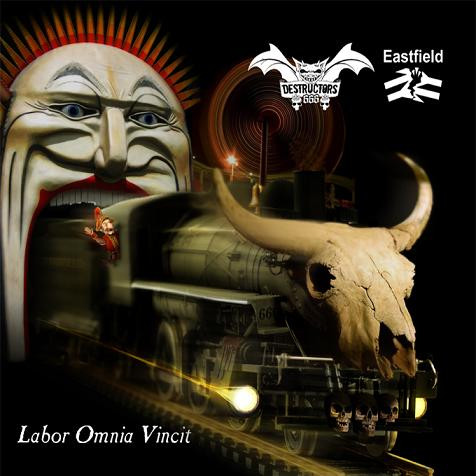 EASTFIELD/DESTRUCTORS 666
LABOR OMNIA VINCIT
Unavailable
Both Eastfield and Destructors 666 hail from the east of England. Destructors 666 are the latest incarnation of the Destructors, the Peterborough band that coughed up Gizz Butt (former guitarist for the Prodigy). In various forms they have been around since 1976 so in Cambridgeshire, England they are like the grandfathers of punk.
No attempts are made my either band to break moulds or do anything innovative. What you might expect from an old school split punk single is exactly what you get. That may sound overly dismissive but these groups know their target audience, so why re invent the wheel. Of the seven songs present Destructors 666 come out sounding the more polished in a Misfits kind of way. Eastfield lose points for completely destroying the Tom Robinson Band's gay rights standard "Glad to Be Gay".
This review originally poisoned popmatters.com

https://www.popmatters.com/eastfield-destructors666-labor-omnia-vincit-2496144083.html