Apparently Black 47 are recognised as the premier Irish-American rock group who "paved the way for the current Irish-American explosion" and their new album is a retrospective of their 16 years of recording. This is what you glean from their website and the accompanying press release. From that information alone you might expect the same kind of irreverence and grit that you got from the Pogues in their Shane MacGowan heyday. Black 47 have carved out a little niche for themselves as Irish-American protest singers and I guess in the USA and the republic of Ireland they are well-known, but from Bittersweet Sixteen it is a little difficult to determine exactly why.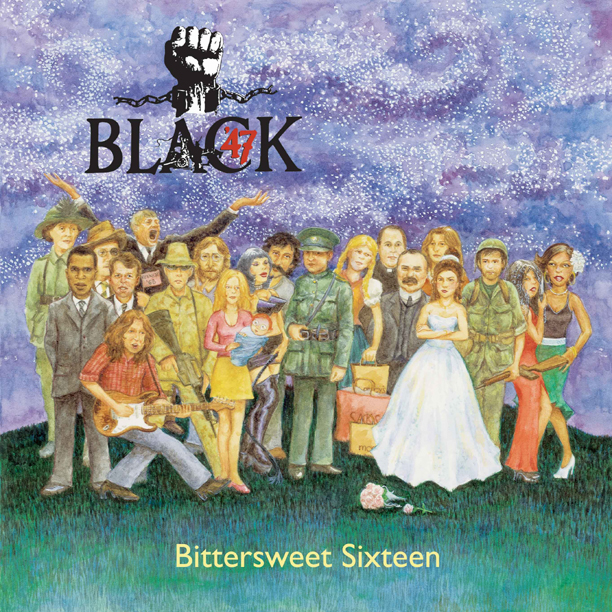 BLACK 47
BITTERSWEET SIXTEEN
Gadfly
2006-03-21
Larry Kirwan is the politically uncompromising Irishman that leads Black 47. The music is full of swagger and a chin-forward stance that should stir the shackles at the back of your neck. There is a certain aggression and force that lives in the songs somewhere. This force is aching to get out. However, it gets lost in the production and/or the execution. Consequently, what you get are protest songs that are somewhat limp and don't really, well… protest. They kind of whine, but more on that later.
Politically, Black 47's hearts are firmly in the right place. Of this there is no doubt, but the material doesn't seem to cut the mustard. The well meaning content of Mr Kirwan's lyrics does not cancel that musically they are somewhere between the Alarm and "Big Music"-period Waterboys. Now, I'm willing to ride the retro peace train with the rest of you, but this is not really retro. Okay, it is a "best of" album, but even the more recently recorded tracks sound old. That is the crux of the problem here. The quality of most of the recordings is awful, really poor live demos or abandoned studio tapes fill the gaps that the old record companies have made by deleting their back catalogue.
Not just that… this 16-track retrospective (one song for every long year of this band's existence) shows how it is in fact possible for a group to not progress over nearly two decades. Probable exceptions to this sweeping statement are the cod-reggae disaster of "Voodoo City" and the really dreadful Glenn Miller with uilleann pipes fiasco that is "Staten Island Baby".
From these examples we come to "Downtown Baghdad Blues" (hmm… I wonder what that one could be about), which is a revolutionary anti-war song. One almost wants to paraphrase Bono from his famous introduction to "Sunday Bloody Sunday", but "one" won't. Their attempts at revolutionary rock fall flat due to lack of musical originality, but mainly as a result of Kirwan's voice. Rather than making powerful statements it just feels like he is whining in an altogether atonal way. Sure, this was done by the Clash and the Sex Pistols but really Black 47 are no punk band.
However, if Black 47 formed part of your musical upbringing you may have a soft spot for them in your heart. You may put them up there with the likes of the Pogues as one of the great punky Celtic rock bands. Perhaps if I had been exposed to the band in their prime then I would be able to listen to a lot of these substandard recordings with a wry smile on my face. On the strength of these recordings I am not incited to rummage through second hand stores to listen to the glory of their deleted back catalogue.
This album was originally reviewed on pop matters.com

https://www.popmatters.com/black-47-bittersweet-sixteen-2495679022.html