What can be said about Arthur Brown that hasn't been said a million times already? He is the archetype of the one-hit wonder. He is the rocker with wild onstage antics that have almost got him and others maimed and ultimately had him kicked off a tour with Jimi Hendrix. For the last 40 years he has been known as the man that screamed at the top of his voice, "I am the god of hellfire", at the beginning of the only song he is known for.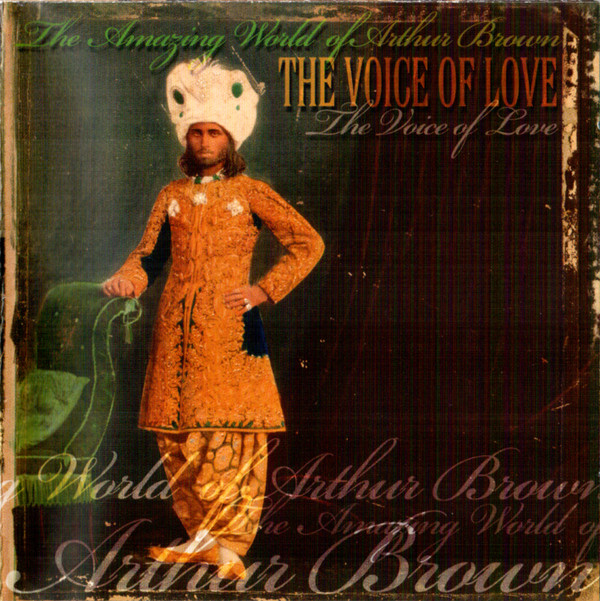 THE AMAZING WORLD OF ARTHUR BROWN
THE VOICE OF LOVE
Zoho
2008-06-10
He has been residing in the "where are they now" file for many years. Apparently he has filled his time working as a painter and decorator in Austin, Texas or training to be a counselor. He has also turned out the occasional record, although none of these recordings really made any dent in the common consciousness. In contrast this album might just capture the imagination of quite a few.
Despite his vocal performance on "Fire" being spotless, Brown may not be so well known for the sheer vocal range and volume that he has in those pipes. On The Voice of Love he belts out the 11 tracks with such power that I was in fear of losing all the glassware in my house. Sometimes putting so much force into his singing, he overshadows the acoustic backing track. On these occasions it has the unfortunate effect of making him sound like he is singing in the bath to an instrumental version of the song on a radio in another room. Those moments notwithstanding, The Voice of Love is still a robust collection of songs.
There are few pop tunes here with a catchy chorus that stick in your brain. Of the original songs is the short, cute, and familiar-sounding "Shining Bright". This song's refrain "I need nobody now / I need no one and nothing / I need nobody now / seeing me shining bright" is an ode to Brown shying away from public adoration. It is almost as if he is explaining why he has not topped the rock world for the last 40 years. He is unapologetically saying that the music is what it is all about for him and not the trappings that come with it. He has been there, now he just wants to make music because it is what he enjoys.
This collection includes original songs and a few covers. The most prominent of these is Brown's take on another one-hit wonder's song "Kites", originally by Simon Dupree and the Big Sound. He turns this piece of psychedelia into a quirky love song. It takes a while, you are not sure whether you have heard it before, but then it comes to you that it is indeed a cover. Otis Redding's "That's How Strong My Love Is" also gets the Brown treatment, slowed down and with a slightly lower-key vocal in the outset, but not for long. Towards the end of the song Brown lets rip completely, performing vocal acrobatics showing off the full range that this 66-year old can muster. This fella has got a lot in him and it makes you wonder why he has been sidelined for such a long time.
The sleeve notes make much of the recording methodology. Brown recorded this album on two-inch master tape using live performances throughout and the original vocal take wherever possible. Despite the protestations to the contrary, this is anything but a low-fi recording. It is crystal-clear, if a bit wobbly in the vocal department on occasion. Yet you can really forgive the odd misfire, due to the audacity of screeching a Glen Hughes-style, metal-god wail over a ukulele. It almost works and is very entertaining.
To say that this is the best album that Brown has done since 1968's Fire is meaningless. The potential that was shown back then has been realized in this release. The Voice of Love has been 40 years in the making. Despite a few idiosyncrasies, it has been worth the wait.
This review originally appeared on popmatters.com

https://www.popmatters.com/the-amazing-world-of-arthur-brown-the-voice-of-love-2496119347.html