11 – 11 is about as perfect as one can get for a debut record. If guitar-based pop music is your thing, this should touch your buttons and get you on your feet. Only one of the 14 songs on this album is over the European legal limit for pop songs (Brussels finally ratified the "three-and-a-half-minute rule"). Voicst's music erupts from your speakers full speed ahead, with a poptastic, guitar-heavy slab of — wait for it — songs. There are no fillers, no masturbatory guitar solos: just meaty, powerful, pop tunes. Drummer Joppe Molenaar describes their sound as being, "…somewhere between Beyonce and the Melvins," and he really is right on the money.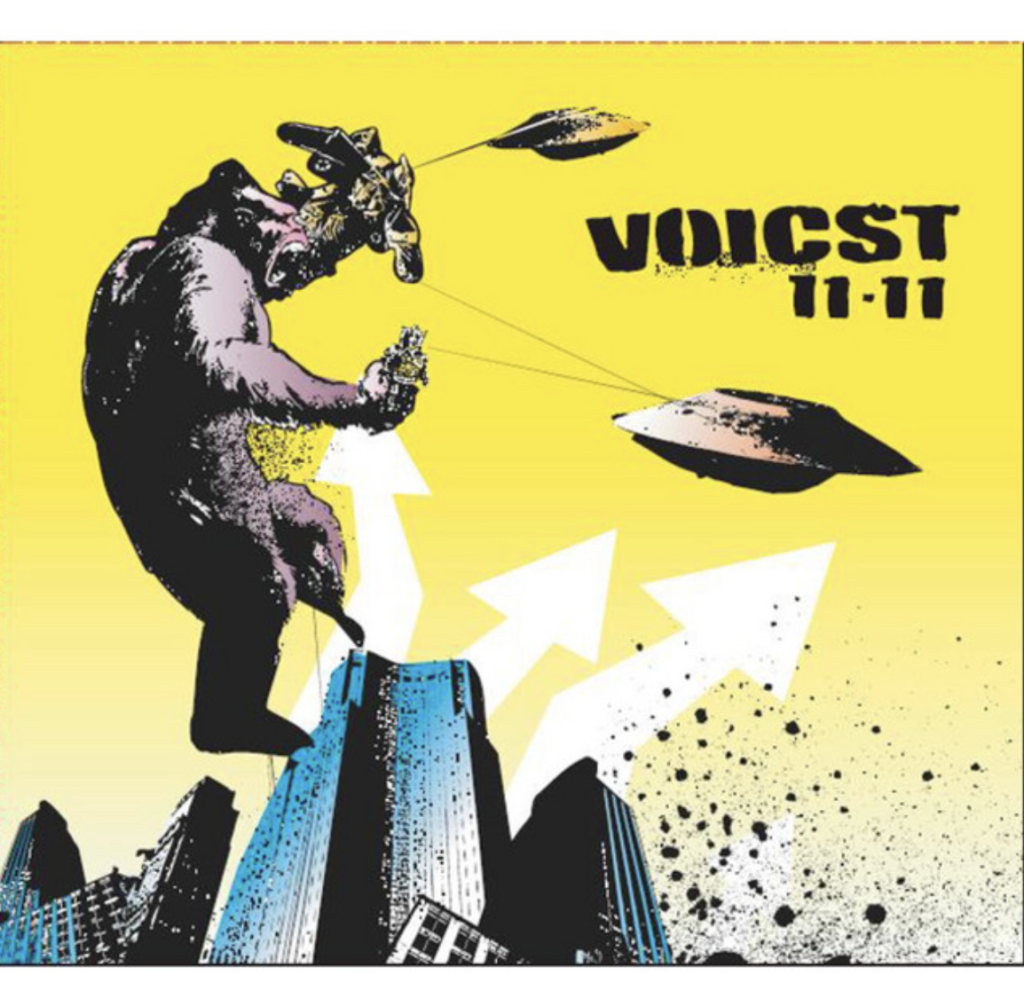 VOICST
11-11
Intrigue Music
2006-08-01
"Porn", with its refrain "…if you want to stick with me, you'd better like porn the way I do," encapsulates their energy and attitude in just over three minutes. They have a "don't give a f…" manner that percolates through the otherwise sunny, smiling demeanor of their music. Compared to the fluffy pop tunes that mainstream labels float our way, Voicst are porn. Indeed, if this album were a movie, there wouldn't be much of a storyline, and no grand tracking shots or fancy camera angles. It would be straight to the "money shot" as soon as possible, and then on to another similarly successful set piece. They don't waste time; they give us what we want and then move on and then give it again and again. Their music shows incredible staying power, and thankfully without a moustache or spotty behind in sight.
This Dutch trio is comprised of Tjeerd Bomhof (guitars and vocals), Joppe Molenaar (drums and samples), and Sven Woodside (bass and vocals). Musically, they are crazy horses from the same stable as Supergrass, who also shook up the pop world in the UK by writing staggeringly catchy, happy tunes when most of the bands around them were busy gazing in the direction of their navels. Like Supergrass, Voicst devote their own manic energy (Voicst means "manic energy" in South African slang) to bright and humorous tunes that make you glad to be alive, while also giving you something to think about.
This guitar-based outing has enough modern tinges to appeal to your discerning "noughties" kid. There are funky drum loops and samples that are effortlessly placed, strewn around the recording like scatter cushions. They don't impact the overall décor, but add that certain "I don't know what"… or as we say here in Holland, je ne sais quoi. So, while being succinct in their songwriting, these Amsterdammers also have a judicious ear for what sounds fit, without losing the desired impact by noodling off into silly-world. The album contains 13 great songs and one brief instrumental. Any record that contains proper songs played with such wanton enthusiasm is worth your hard-earned cash, whatever the currency.
It should come as no surprise that this stunning debut has won acclaim and awards for Voicst in their native Europe, the 3voor12 Award for "best Dutch album in the last twelve months" being only one of them. However, I cannot agree with this accolade. To limit the praise to only Dutch albums is just plain potty talk. 11 – 11 is the best album of 2006 so far, and will certainly be up there in my end-of-year top five. The bar has been raised and the gauntlet is down. I would love to hear a better collection of songs this year, but I won't be holding my breath.
originally posted on pop matters.com

https://www.popmatters.com/voicst-11-11-2495682003.html