The USA finally gets a release of KT Tunstall's debut Eye to the Telescope. This album has been turning quite a few heads in the UK. It was reissued in January of 2005 after a stunning TV performance on Later with Jools Holland and has been in the UK album charts ever since. In July 2005 the album received a nomination for the Mercury Music Prize. All in all 2005 was a good year for KT. 2006 is shaping up pretty well too as in January Tunstall received three "Brit" nominations: Best British Live Act, British Breakthrough Act, and British Female Solo Artist. She won the latter.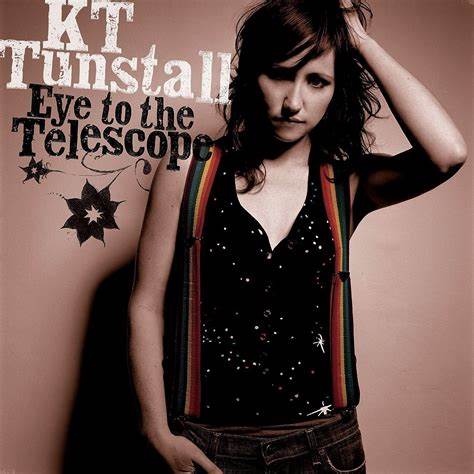 KT TUNSTALL
EYE TO THE TELESCOPE
Virgin
2006-02-07
It is no coincidence that Miss Tunstall was plucked from the wilderness after a live performance. Her voice is as silky and as potent as a pint of Guinness and if you were to look at one of the numerous videos available of her performing that are available on the Internet (her MySpace page or YouTube are good places to look) you would see that she is so at home in front of an audience. She brings a wonderful rawness and energy to the party that is thoroughly exciting and innovative, particularly her use of a loop pedal that she affectionately calls her "Wee Bastard". It has been a long time coming for KT. Over the years she has been messed about and set back by unscrupulous record companies. However, rather than blow up the candy factory she stuck with it. In many ways her loss has been our gain as in the intervening years she has perfected her performance and her song writing abilities.
As a songwriter Tunstall is to a certain extent an illusionist. With a precise slight of hand she draws your attention to what one hand is doing while the other is whipping the carpet from under your feet. The when she is not doing this she is a musical chameleon, blending into a certain musical style in order that she can get her prey. The two of these go hand in hand, one persona bounces off the other. Unfortunately, this approach can make you feel like you are not hearing anything new. Sometimes KT comes over all Edie Brickell (Under the WeatherӔ), sometimes she has shades of Melissa Etheridge (Another Place to FallӔ) on other occasions she is coming from the same sandpit as Fiona Apple (Miniature DisastersӔ). In between all of this you get some real originality in the form of the song that got her noticed "Black Horse and the Cherry Tree". In many, many ways KT reminds me more of that other musical chameleon Lenny Kravitz than any of the other examples. She wears her influences on her sleeve in a shameless fashion and in doing so comes up with something both new and familiar.
I have one grumble about Eye to the Telescope and it has nothing to do with the lady herself, her performance or her songs. It is with the production values introduced by Steve Osborne. There is little doubt that Osborne is a talented man. In the 1990s he made his name as being partly (with Paul Oakenfold) responsible for the last good Happy Mondays album Pills 'n' Thrills and Bellyaches and a host of remixes under the "Perfecto" imprint. Here he has no doubt introduced a number of nice grooves. Unfortunately, he seems to have sanded down all of KT's rough edges. Even though the album probably has a larger market appeal as a result of this pristine approach, I think that it is a shame. I would really have liked to have heard the much more edgy record that I am certain Tunstall is capable of.
When a talent such as KT Tunstall has been bubbling under for so long the breakthrough album that you get is often one that makes people sit up and take notice. Think of the hue and cry that was made of Tori Amos' Little Earthquakes when that finally hit the record shops for the second time. As with that album the fuss around this release in the UK is justified. Look out US of A, KT is coming and she's bringing her "Wee Bastard" with her.
originally on popmatters.com

https://www.popmatters.com/kt_tunstall_eye_to_the_telescope-2495675749.html